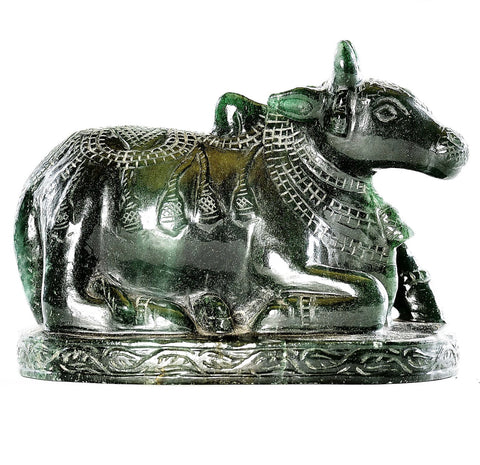 JADE NANDI HAND-CARVED 4"
Lord Shiva's gate keeper. 
Nandi is a symbolism of eternal waiting, because waiting is considered the greatest virtue in Indian culture. One who knows how to simply sit and wait is naturally meditative.
Nandi is Shiva's closest accomplice because he is the essence of receptivity. Before you go into a temple, you must have the quality of Nandi – to simply sit.
Meditation means you are willing to just listen to existence, to the ultimate nature of creation. You have nothing to say, you simply listen. That is the quality of Nandi.

Nandi is a great item to accompany Shiva Statues. 
| | |
| --- | --- |
| | |
| Dimensions | H - 3.75"  W - 6"  D - 2" |
---
We Also Recommend